Car model and year: Aston Martin DB9 Cabrio, 2007, SCFAD02A47GB08111
Purpose: read fault codes, clear fault codes.
Advised diagnostic tool for Aston Martin:
Launch or Autel
Price: not less than 1000usd
Price: $205
Pros: 75 car brands covered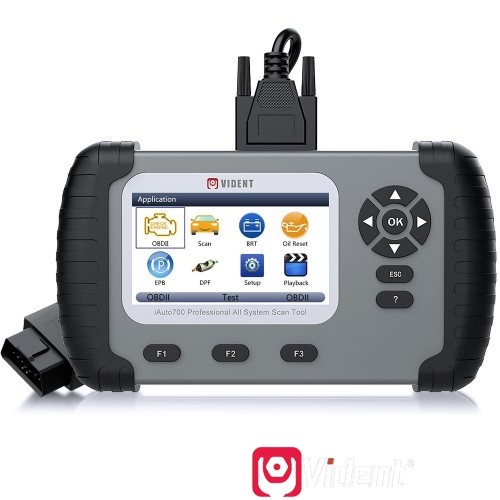 Price: $139
Pros: full system diagnosis; add more than 5 car brands as long as the machine has enough storage.
As for diagnostic function, Vident iAuto700 Aston Martin function list = VIDENT iLink400 Aston Martin function list.
AutoMaker:AstonMartin
NOTES:
√ This function is supported.
※ This function may be supported, which depends on the actual condition of the vehicle.
○ This function is not supported.
▲ This function is the new feature in this version. As for special function please refer to the special function table.
Model
System
ECU
Info.
Read
Codes
Erase Codes
Live
Data
Active Test
Special
Function
Cygnet (From 2011)
8 Cylinder ECM – Engine Control Module – Bank 1
√
√
√
√
○
Cygnet (From 2011)
12 Cylinder EMS-P – Engine Control Module – Bank 1
√
√
√
√
○
Cygnet (From 2011)
12 Cylinder EMS-S – Engine Control Module – Bank 2
√
√
√
√
○
Cygnet (From 2011)
BCM – Brake Control Module
√
√
√
√
○
Cygnet (From 2011)
RCM – Restraints Control Module
√
√
√
√
○
Cygnet (From 2011)
CEM-HS – Central Electronic Module (High Speed CAN)
√
√
√
√
○
Cygnet (From 2011)
CEM-LS – Central Electronic Module (Low Speed CAN)
√
√
√
√
○
Cygnet (From 2011)
DIM – Driver Information Module
√
√
√
√
○
0001
Cygnet (From 2011)
PAM – Parking Aid Module
√
√
√
√
○
Cygnet (From 2011)
CCM – Centre console module
√
√
√
○
○
Cygnet (From 2011)
AUD5 – Audio Amplifier ModuleAUD5
√
√
√
○
○
Cygnet (From 2011)
SUB5 – Sub Woofer Amplifier
√
√
√
○
○
Cygnet (From 2011)
MMM – Multi-Media Module
√
√
√
○
○
Cygnet (From 2011)
MP1 – Media Player Module
√
√
√
○
○
Cygnet (From 2011)
AFM – AM/FM Tuner Module
√
√
√
○
○
Cygnet (From 2011)
GPS – Global Positioning System
√
√
√
○
○
Cygnet (From 2011)
TCMZF – Transmission Control Module
√
√
√
√
○
Cygnet (From 2011)
ASM – Marelli transmission control module
√
√
√
√
√
Cygnet (From 2011)
EPB – Parking brake
√
√
√
√
○
Cygnet (From 2011)
ESCL – Electronic Steering Column Lock module
√
√
√
√
○
Cygnet (From 2011)
HLM – Headlamp Levelling Module
√
√
√
√
○
Cygnet (From 2011)
SAS – Steering Angle Sensor
√
√
√
√
○
Cygnet (From 2011)
ADM – Adaptive Damping Module
√
√
√
√
○
Cygnet (From 2011)
TPMS – Beru tyre pressure monitor module
√
√
√
√
√
Cygnet (From 2011)
DSM+ – Driver seat module
√
√
√
√
○
Cygnet (From 2011)
PSM+ – Passenger seat module
√
√
√
√
○
Cygnet (From 2011)
DDM+ – Drivers door module
√
√
√
√
○
Cygnet (From 2011)
DDM – Drivers door module
√
√
√
√
○
Cygnet (From 2011)
PDM+ – Drivers door module
√
√
√
√
○
Cygnet (From 2011)
PDM – Drivers door module
√
√
√
√
○
Cygnet (From 2011)
DDMR -Driver door moduleDDMR rear
√
√
√
√
○
Cygnet (From 2011)
PDMR – Passenger door module rear
√
√
√
√
○
Cygnet (From 2011)
FCIM – Front console interface module
√
√
√
○
○
Cygnet (From 2011)
RCIM – Rear console interface module
√
√
√
○
○
Cygnet (From 2011)
LCDM – LCD Module
√
√
√
○
○
DB9 (From 2004)
8 Cylinder ECM – Engine Control Module – Bank 1
√
√
√
√
○
DB9 (From 2004)
12 Cylinder EMS-P – Engine Control Module – Bank 1
√
√
√
√
○
DB9 (From 2004)
12 Cylinder EMS-S – Engine Control Module – Bank 2
√
√
√
√
○
DB9 (From 2004)
BCM – Brake Control Module
√
√
√
√
○
DB9 (From 2004)
RCM – Restraints Control Module
√
√
√
√
○
DB9 (From 2004)
CEM-HS – Central Electronic Module (High Speed CAN)
√
√
√
√
○
DB9 (From 2004)
CEM-LS – Central Electronic Module (Low Speed CAN)
√
√
√
√
○
DB9 (From 2004)
DIM – Driver Information Module
√
√
√
√
○
0001
DB9 (From 2004)
PAM – Parking Aid Module
√
√
√
√
○
DB9 (From 2004)
CCM – Centre console module
√
√
√
○
○
DB9 (From 2004)
AUD5 – Audio Amplifier Module
√
√
√
○
○
DB9 (From 2004)
SUB5 – Sub Woofer Amplifier
√
√
√
○
○
DB9 (From 2004)
MMM – Multi-Media Module
√
√
√
○
○
DB9 (From 2004)
MP1 – Media Player Module
√
√
√
○
○
DB9 (From 2004)
AFM – AM/FM Tuner Module
√
√
√
○
○
DB9 (From 2004)
GPS – Global Positioning System
√
√
√
○
○
DB9 (From 2004)
TCMZF – Transmission Control ModuleTCMZF
√
√
√
√
○
DB9 (From 2004)
ASM – Marelli transmission control module
√
√
√
√
√
DB9 (From 2004)
EPB – Parking brake
√
√
√
√
○
DB9 (From 2004)
ESCL – Electronic Steering Column Lock module
√
√
√
√
○
DB9 (From 2004)
HLM – Headlamp Levelling Module
√
√
√
√
○
DB9 (From 2004)
SAS – Steering Angle Sensor
√
√
√
√
○
DB9 (From 2004)
ADM – Adaptive Damping Module
√
√
√
√
○
DB9 (From 2004)
TPMS – Beru tyre pressure monitor module
√
√
√
√
√
DB9 (From 2004)
DSM+ – Driver seat module
√
√
√
√
○
DB9 (From 2004)
PSM+ – Passenger seat module
√
√
√
√
○
DB9 (From 2004)
DDM+ – Drivers door module
√
√
√
√
○
DB9 (From 2004)
DDM – Drivers door module
√
√
√
√
○
DB9 (From 2004)
PDM+ – Drivers door module
√
√
√
√
○
DB9 (From 2004)
PDM – Drivers door module
√
√
√
√
○
DB9 (From 2004)
DDMR – Driver door module rear
√
√
√
√
○
DB9 (From 2004)
PDMR – Passenger door module rear
√
√
√
√
○
DB9 (From 2004)
FCIM – Front console interface module
√
√
√
○
○
DB9 (From 2004)
RCIM – Rear console interface module
√
√
√
○
○
DB9 (From 2004)
LCDM – LCD Module
√
√
√
○
○
DBS V12 (From 2007)
8 Cylinder ECM – Engine Control Module – Bank 1
√
√
√
√
○
DBS V12 (From 2007)
12 Cylinder EMS-P -Engine Control Module -Bank 1
√
√
√
√
○
DBS V12 (From 2007)
12 Cylinder EMS-S – Engine Control Module – Bank 2
√
√
√
√
○
DBS V12 (From 2007)
BCM – Brake Control Module
√
√
√
√
○
DBS V12 (From 2007)
RCM – Restraints Control Module
√
√
√
√
○
DBS V12 (From 2007)
CEM-HS – Central Electronic Module (High Speed CAN)
√
√
√
√
○
DBS V12 (From 2007)
CEM-LS – Central Electronic Module (Low Speed CAN)
√
√
√
√
○
DBS V12 (From 2007)
DIM – Driver Information Module
√
√
√
√
○
0001
DBS V12 (From 2007)
PAM – Parking Aid Module
√
√
√
√
○
DBS V12 (From 2007)
CCM – Centre console module
√
√
√
○
○
DBS V12 (From 2007)
AUD5 – Audio Amplifier Module
√
√
√
○
○
DBS V12 (From 2007)
SUB5 – Sub Woofer Amplifier
√
√
√
○
○
DBS V12 (From 2007)
MMM – Multi-Media Module
√
√
√
○
○
DBS V12 (From 2007)
MP1 – Media Player Module
√
√
√
○
○
DBS V12 (From 2007)
AFM – AM/FM Tuner Module
√
√
√
○
○
DBS V12 (From 2007)
GPS – Global Positioning System
√
√
√
○
○
DBS V12 (From 2007)
TCMZF – Transmission Control Module
√
√
√
√
○
DBS V12 (From 2007)
ASM – Marelli transmission control module
√
√
√
√
√
DBS V12 (From 2007)
EPB – Parking brake
√
√
√
√
○
DBS V12 (From 2007)
ESCL – Electronic Steering Column Lock module
√
√
√
√
○
DBS V12 (From 2007)
HLM – Headlamp Levelling Module
√
√
√
√
○
DBS V12 (From 2007)
SAS – Steering Angle Sensor
√
√
√
√
○
DBS V12 (From 2007)
ADM – Adaptive Damping Module
√
√
√
√
○
DBS V12 (From 2007)
TPMS – Beru tyre pressure monitor module
√
√
√
√
√
DBS V12 (From 2007)
DSM+ – Driver seat module
√
√
√
√
○
DBS V12 (From 2007)
PSM+ – Passenger seat module
√
√
√
√
○
DBS V12 (From 2007)
DDM+ – Drivers door module
√
√
√
√
○
DBS V12 (From 2007)
DDM – Drivers door module
√
√
√
√
○
DBS V12 (From 2007)
PDM+ – Drivers door module
√
√
√
√
○
DBS V12 (From 2007)
PDM – Drivers door module
√
√
√
√
○
DBS V12 (From 2007)
DDMR – Driver door module rear
√
√
√
√
○
DBS V12 (From 2007)
PDMR – Passenger door module rear
√
√
√
√
○
DBS V12 (From 2007)
FCIM – Front console interface module
√
√
√
○
○
DBS V12 (From 2007)
RCIM – Rear console interface module
√
√
√
○
○
DBS V12 (From 2007)
LCDM – LCD Module
√
√
√
○
○
Rapide (From 2009)
8 Cylinder ECM – Engine Control Module – Bank 1
√
√
√
√
○
Rapide (From 2009)
12 Cylinder EMS-P – Engine Control Module – Bank 1
√
√
√
√
○
Rapide (From 2009)
12 Cylinder EMS-S – Engine Control Module – Bank 2
√
√
√
√
○
Rapide (From 2009)
BCM – Brake Control Module
√
√
√
√
○
Rapide (From 2009)
RCM – Restraints Control Module
√
√
√
√
○
Rapide (From 2009)
CEM-HS – Central Electronic Module (High Speed CAN)
√
√
√
√
○
Rapide (From 2009)
CEM-LS – Central Electronic Module (Low Speed CAN)
√
√
√
√
○
Rapide (From 2009)
DIM – Driver Information ModuleDIM
√
√
√
√
○
0001
Rapide (From 2009)
PAM – Parking Aid Module
√
√
√
√
○
Rapide (From 2009)
CCM – Centre console module
√
√
√
○
○
Rapide (From 2009)
AUD5 – Audio Amplifier Module
√
√
√
○
○
Rapide (From 2009)
SUB5 – Sub Woofer Amplifier
√
√
√
○
○
Rapide (From 2009)
MMM – Multi-Media Module
√
√
√
○
○
Rapide (From 2009)
MP1 – Media Player Module
√
√
√
○
○
Rapide (From 2009)
AFM – AM/FM Tuner Module
√
√
√
○
○
Rapide (From 2009)
GPS – Global Positioning System
√
√
√
○
○
Rapide (From 2009)
TCMZF – Transmission Control Module
√
√
√
√
○
Rapide (From 2009)
ASM – Marelli transmission control module
√
√
√
√
√
Rapide (From 2009)
EPB – Parking brake
√
√
√
√
○
Rapide (From 2009)
ESCL – Electronic Steering Column Lock module
√
√
√
√
○
Rapide (From 2009)
HLM – Headlamp Levelling Module
√
√
√
√
○
Rapide (From 2009)
SAS – Steering Angle Sensor
√
√
√
√
○
Rapide (From 2009)
ADM – Adaptive Damping Module
√
√
√
√
○
Rapide (From 2009)
TPMS – Beru tyre pressure monitor module
√
√
√
√
√
Rapide (From 2009)
DSM+ – Driver seat module
√
√
√
√
○
Rapide (From 2009)
PSM+ – Passenger seat module
√
√
√
√
○
Rapide (From 2009)
DDM+ – Drivers door module
√
√
√
√
○
Rapide (From 2009)
DDM – Drivers door module
√
√
√
√
○
Rapide (From 2009)
PDM+ – Drivers door modulePDM
√
√
√
√
○
Rapide (From 2009)
PDM – Drivers door module
√
√
√
√
○
Rapide (From 2009)
DDMR – Driver door module rear
√
√
√
√
○
Rapide (From 2009)
PDMR – Passenger door module rear
√
√
√
√
○
Rapide (From 2009)
FCIM – Front console interface module
√
√
√
○
○
Rapide (From 2009)
RCIM – Rear console interface module
√
√
√
○
○
Rapide (From 2009)
LCDM – LCD Module
√
√
√
○
○
Vantage (From 2005)
8 Cylinder ECM – Engine Control Module – Bank 1
√
√
√
√
○
Vantage (From 2005)
12 Cylinder EMS-P – Engine Control Module – Bank 1
√
√
√
√
○
Vantage (From 2005)
12 Cylinder EMS-S – Engine Control Module – Bank 2
√
√
√
√
○
Vantage (From 2005)
BCM – Brake Control Module
√
√
√
√
○
Vantage (From 2005)
RCM – Restraints Control Module
√
√
√
√
○
Vantage (From 2005)
CEM-HS – Central Electronic Module (High Speed CAN)
√
√
√
√
○
Vantage (From 2005)
CEM-LS – Central Electronic Module (Low Speed CAN)
√
√
√
√
○
Vantage (From 2005)
DIM – Driver Information Module
√
√
√
√
○
0001
Vantage (From 2005)
PAM – Parking Aid Module
√
√
√
√
○
Vantage (From 2005)
CCM – Centre console module
√
√
√
○
○
Vantage (From 2005)
AUD5 – Audio Amplifier Module
√
√
√
○
○
Vantage (From 2005)
SUB5 – Sub Woofer Amplifier
√
√
√
○
○
Vantage (From 2005)
MMM – Multi-Media Module
√
√
√
○
○
Vantage (From 2005)
MP1 -Media Player Module MP1 Media Player Module
√
√
√
○
○
Vantage (From 2005)
AFM – AM/FM Tuner Module
√
√
√
○
○
Vantage (From 2005)
GPS – Global Positioning System
√
√
√
○
○
Vantage (From 2005)
TCMZF – Transmission Control Module
√
√
√
√
○
Vantage (From 2005)
ASM – Marelli transmission control module
√
√
√
√
√
Vantage (From 2005)
EPB – Parking brake
√
√
√
√
○
Vantage (From 2005)
ESCL – Electronic Steering Column Lock module
√
√
√
√
○
Vantage (From 2005)
HLM – Headlamp Levelling Module
√
√
√
√
○
Vantage (From 2005)
SAS – Steering Angle Sensor
√
√
√
√
○
Vantage (From 2005)
ADM – Adaptive Damping Module
√
√
√
√
○
Vantage (From 2005)
TPMS – Beru tyre pressure monitor module
√
√
√
√
√
Vantage (From 2005)
DSM+ – Driver seat module
√
√
√
√
○
Vantage (From 2005)
PSM+ – Passenger seat module
√
√
√
√
○
Vantage (From 2005)
DDM+ – Drivers door module
√
√
√
√
○
Vantage (From 2005)
DDM – Drivers door module
√
√
√
√
○
Vantage (From 2005)
PDM+ – Drivers door module
√
√
√
√
○
Vantage (From 2005)
PDM – Drivers door module
√
√
√
√
○
Vantage (From 2005)
DDMR – Driver door module rear
√
√
√
√
○
Vantage (From 2005)
PDMR – Passenger door module rear
√
√
√
√
○
Vantage (From 2005)
FCIM – Front console interface module
√
√
√
○
○
Vantage (From 2005)
RCIM – Rear console interface module
√
√
√
○
○
Vantage (From 2005)
LCDM – LCD ModuleLCDM LCD Module
√
√
√
○
○
Virage (From 2011)
8 Cylinder ECM – Engine Control Module – Bank 1
√
√
√
√
○
Virage (From 2011)
12 Cylinder EMS-P – Engine Control Module – Bank 1
√
√
√
√
○
Virage (From 2011)
12 Cylinder EMS-S – Engine Control Module – Bank 2
√
√
√
√
○
Virage (From 2011)
BCM – Brake Control Module
√
√
√
√
○
Virage (From 2011)
RCM – Restraints Control Module
√
√
√
√
○
Virage (From 2011)
CEM-HS – Central Electronic Module (High Speed CAN)
√
√
√
√
○
Virage (From 2011)
CEM-LS – Central Electronic Module (Low Speed CAN)
√
√
√
√
○
Virage (From 2011)
DIM – Driver Information Module
√
√
√
√
○
0001
Virage (From 2011)
PAM – Parking Aid Module
√
√
√
√
○
Virage (From 2011)
CCM – Centre console module
√
√
√
○
○
Virage (From 2011)
AUD5 – Audio Amplifier Module
√
√
√
○
○
Virage (From 2011)
SUB5 – Sub Woofer Amplifier
√
√
√
○
○
Virage (From 2011)
MMM – Multi-Media Module
√
√
√
○
○
Virage (From 2011)
MP1 – Media Player Module
√
√
√
○
○
Virage (From 2011)
AFM – AM/FM Tuner Module
√
√
√
○
○
Virage (From 2011)
GPS – Global Positioning System
√
√
√
○
○
Virage (From 2011)
TCMZF – Transmission Control Module
√
√
√
√
○
Virage (From 2011)
ASM – Marelli transmission control module
√
√
√
√
√
Virage (From 2011)
EPB – Parking brake
√
√
√
√
○
Virage (From 2011)
ESCL -Electronic Steering Column Lock module ESCL
√
√
√
√
○
Virage (From 2011)
HLM – Headlamp Levelling Module
√
√
√
√
○
Virage (From 2011)
SAS – Steering Angle Sensor
√
√
√
√
○
Virage (From 2011)
ADM – Adaptive Damping Module
√
√
√
√
○
Virage (From 2011)
TPMS – Beru tyre pressure monitor module
√
√
√
√
√
Virage (From 2011)
DSM+ – Driver seat module
√
√
√
√
○
Virage (From 2011)
PSM+ – Passenger seat module
√
√
√
√
○
Virage (From 2011)
DDM+ – Drivers door module
√
√
√
√
○
Virage (From 2011)
DDM – Drivers door module
√
√
√
√
○
Virage (From 2011)
PDM+ – Drivers door module
√
√
√
√
○
Virage (From 2011)
PDM – Drivers door module
√
√
√
√
○
Virage (From 2011)
DDMR – Driver door module rear
√
√
√
√
○
Virage (From 2011)
PDMR – Passenger door module rear
√
√
√
√
○
Virage (From 2011)
FCIM – Front console interface module
√
√
√
○
○
Virage (From 2011)
RCIM – Rear console interface module
√
√
√
○
○
Virage (From 2011)
LCDM – LCD Module
√
√
√
○
○